How to: Fold a pocket square
HOW TO: FOLD A POCKET SQUARE
There's a reason we love pocket squares. What other accessory can deliver sartorial style in five seconds flat?
Often an overlooked style tool, a pocket square adds punch and finesse, and is an easy way to add newness to your wardrobe.
Not only for black tie and special occasions, you can rock a pocket square with your everyday suit or smart casual blazer/chino combo.
Simply put, it's indispensably handsome.
STYLING TIPS
The rule of thumb is that your pocket square should complement your shirt and tie (if you're wearing one) but not necessarily match exactly.
You can never have too many options with this small yet powerful accessory so play with different colours and patterns when building your pocket square arsenal. 
DOWN TO BUSINESS: THE FOLDS
We're all for nonchalantly stuffing a pocket square in your top pocket but most situations call for something with a little more polish. These four basic folds will have you covered for work, weddings and everything in between. 
THE CASUAL FOLD
Think of the casual fold as the easy way to look effortless. A simple puff fold will keep your look laid-back without being sloppy.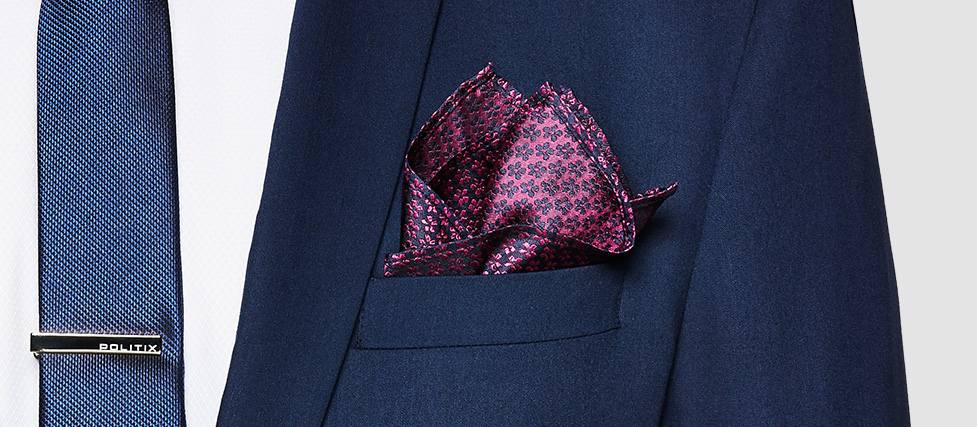 THE TRIANGLE FOLD
A sophisticated, stylish all-rounder that's easy to master. Opt for the Triangle Fold when in doubt.
THE SQUARE FOLD
The Square Fold is your discreet option. For when you want a subtle contrast or added interest to your look.
THE DOUBLE PEAK FOLD
This two-point fold is seriously sharp. It's tricky to execute but it's an instant upgrade that shows you're no amateur.
STYLE TIP
Consider the weather (and your outfit) when choosing the fabric of your pocket square. Warm sunny day? Reach for a linen pocket square. Or if you're rocking a charcoal suit with a tie? Silk is king.